---
Thailand warns media on cave reporting; impose fine $1,800 and six months imprisonment.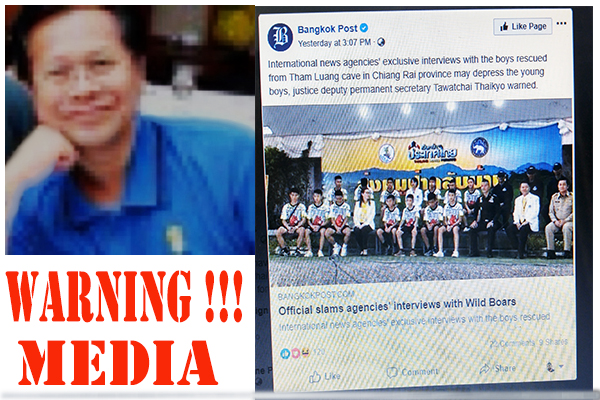 22

Jul 2018
Recently BBC reported that the authorities in Thailand have accused foreign media for behaving irresponsibly and against the democratic rules and regulations while interviewing the members of a juvenile football team, Wild Boars who were trapped in a flooded cave for two weeks and later rescued miraculously with the help of universal concern
"I was saddened that the foreign media, whom we assumed understood children' rights very well as well as the procedures for protecting children and minors, but their standards have turned out to be unexpectedly substandard," Tawatchai Thaikyo, the country's Deputy Permanent Secretary for Justice said in a Facebook post contextually.
Thaikyo urged the media to apply the existing democratic as well as legal guidelines while briefing the minors. The media persons while reporting such juvenile matters should require a psychologist to be present there in the source. It's not fair violating the ethics during questioning and also lashed the media "to stop opening the wound laid deep inside the hearts of children and minors. They are at the age of fragility and they must be protected", Thaikyo clarified.
The media persons were earlier restricted at the cave site and at the hospital where they admitted. But when they were discharged from hospital media persons swarmed around their residences violating the media ethics for briefing them neglecting their mental health.
Meanwhile, Governor, Prachon Prachsakul, Chiang Rai Province released a statement announcing that the rights of the boys under the provisions of Child Protection Act should be honored and observed. Mr. Prachsakul has also given necessary directions to the concerned officials in the matter.
The statement added that any violation of the Child Protection Act "faces a maximum of 60,000 baht fine ($1,800) or up to six months imprisonment, or both."