---
News Capsules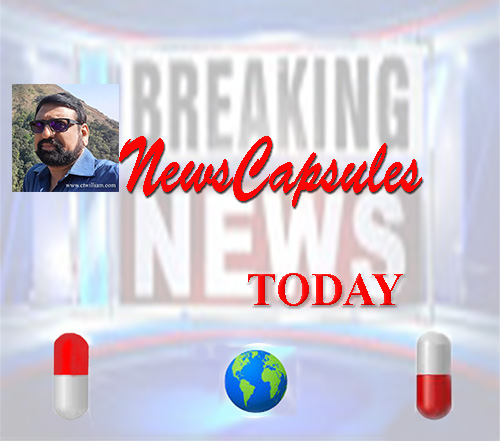 03

Mar 2020

INTERNATIONAL

Covid-19: "we can push this virus back; stigma was more dangerous"-WHO

The Chief of WHO says that the world is in the Uncharted Territory on the Covid-19 outbreak. Though the virus was unique with unique features, we can push back the virus back with the right measures. WHO says that the stigma was more dangerous than the disease itself; there is no choice but to act now. The development of the Covid-19 disease was not "one-way street" and could be combated if countries acted quickly and effectively starting with containment measures. There were now almost 90000 cases worldwide in about 70 countries. 90% but remain in China. 8800 cases outside China of which 81% are in four countries-Iran, South Korea, Italy and Japan. Julie, Singapore recovered woman says that Covid-19 was challenging but curable.

NATIONAL

Modi quitting social media: Shashi Tharoor highlights the total banning of social media.

"The Prime Minister's abrupt announcement has led many to worry whether it's a prelude to banning these services throughout the country too. As@narendramodi knows well, social media can also be a force for good & useful messaging. It does not have to be about spreading hate", Shashi Tharoor tweeted. At the same time, Modi never revealed why's of quitting the Social Media accounts. However, the decision of the Prime Minister could be counted in the context that Social Media has become a media to spread hate and agony in the country. The Prime Minister's action might be interpreted as the commitment of a Role-Model, contextually on the dubious conclusion of Shashi Tharoor.

STATE

Covid-19: Kerala Safe, the Malaysian returnee died not of covid-19.

The Malaysian returnee died at the isolation ward in the medical college, Kalamassery, Kerala is not a Covid-19 case. The tests conducted at the national institute of virology in Pune and Alappuzha proved negative. Mr. Jainesh, the Malaysian returnee was earlier admitted to the medical college, Kalamassery and died on 28th February. After obtaining the results from the Virology Institutes and confirming that the patient died not of Covid-19, the dead body was released to the relatives. The vigilant measures taken by the Health Ministry have proved that Kerala is safe and Covid-19-Proof.