---
New Zealand Unmasked, Covid-19 dropped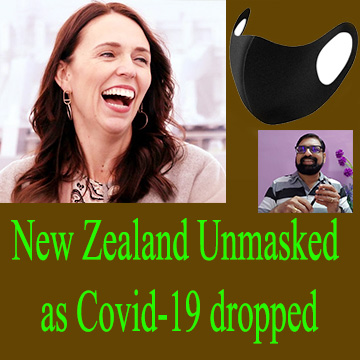 24

Sep 2020

It was recently that the New Zealand Prime Minister Jacinda Ardern apologized over a mask-less selfie with supporters. Now, the scene has changed. The country has lifted all the pandemic restrictions and now back to normal. Happy that New Zealand at present is Unmasked. The country has now recorded only 1,827 confirmed Covid-19 cases and 25 deaths and authorities declared that everything is under control.

Now, Face masks are no longer mandatory on public transport in most of New Zealand except in Auckland, the heart of a recent outbreak, and on planes. There was a safe time for the country about 3 months before but a recent outbreak supposed to be the second wave of the pandemic has hit the country and now almost survived. The government declared that there is no evidence of community transmission.

The country except for Auckland has returned to normal, which means; no more social distancing is mandatory on gatherings such as weddings or sporting events. People have returned to work without any restriction and mask-wearing. However, the mask is still mandatory for the passengers on planes flying to and from Auckland and on all other New Zealand flights.