---
COVID VACCINE: INDIA'S LOGISTIC HURDLE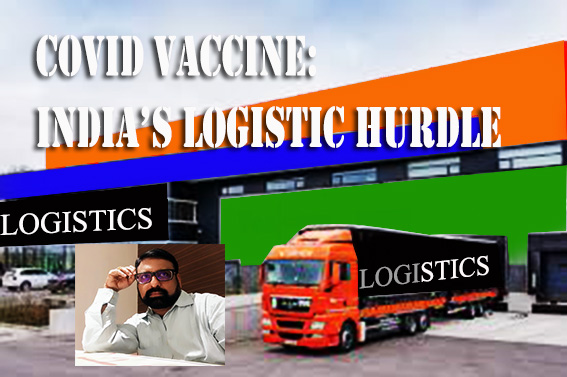 06

Nov 2020

How to preserve and manage the forthcoming Covid vaccine in India amidst India's boiling temperatures at 50C (122F) during summer has been a big question among the scientists and researchers.

Almost all vaccines need to be transported and distributed between 2C and 8C and need to be kept in a cold chain environment. According to the World Health Organisation (WHO), Covid vaccines need to be refrigerated at temperatures well below 0C, the freezing point of water.

So it has been a debatable question in all such countries having high temperature as the Covid-19 vaccine that is heat tolerant and how it can be transported to remote areas where cold chain environment is not ensured.

Considering the grave situation, some Indian scientists are therefore working on such a kind of vaccine that could overcome the heat-tolerance of the vaccine that currently in the launching pad to come out. They are working on a vaccine that is heat-stable and can be stored either at 100C for 90 minutes and at 70C for about 16 hours, or at 37C for more than a month and more. Normally, vaccines that can withstand high temperatures are very rare.

There are five stages by which we could make the vaccine accessible to the grass-root level of the infected. Firstly we have to transport the vaccine to the country destinations by air. Then it has to be transported to the regional stores through refrigerated Lorries. From there we have to transport the same through a refrigerated mechanism to local centres. Again it has to be transferred to the vaccination centres safely under the micro-refrigeration mechanism. In almost all points we need refrigeration facilities to keep the vaccine. But it is very difficult to find such facilities in the remote villages and tribal outskirts of India. This is the grave situation that India undergoes now, otherwise, a heat-stable vaccine has to be invented for the Indian environment.

India at present is expected to receive and utilise 400-500 million doses of Covid-19 vaccines and plans to inoculate some 250 million people between January and July next year. For the success of this massive programme, India needs a vast and expansive cold chain environment all over the country. India, at present, has already a robust network of state-owned cold storages for vaccines that can provide vaccine to more than eight million locations. This facility may not be sufficient to overcome the Covid- vaccination campaign. Hence, ensuring an effective cold chain for a mass vaccination programme will be a big challenge for India.