---
The Truth: Anti-racism protests escalated the pandemic in the US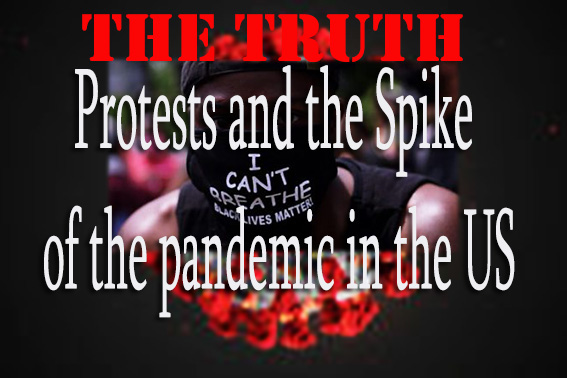 29

Jun 2020

My recent report on the spike of the pandemic in the US due to anti-racism protests have now come true. The coronavirus in the US has now terrifically back in the headlines along with the introduction of either lockdown or restrictions in some parts of the country.

On 25th May 2020, when George Floyd was killed, the US has only 1718776 cases and as of today, after 35 days the cases have been spiked to a 2637077-an increase of 918301 cases. The total deaths also have escalated to 26711 proportionally. Observers say that this is due to the anti-racism protests. President Donald Trump also alleged that masks have been politicized during the days of protests in the US and some people are wearing it primarily to show opposition to him.

Mr. Mike Pence, the Vice-President, however, rejects this exposure and even accused the media of their "grim predictions" to frighten the American public. But the fact is that the number of infections is unbelievably going up. The US at present is having 2637077 Covid-affected cases and 128437 deaths.

The North East, The South, The West, and Midwest have been reported as the worst-hit region. As per the directions of the World Health Organization that the countries that have a positive case rate at or below 5% for 14 days could ease restrictions. But the national rate from earlier June onwards is rising up and currently, about 6% and the US has eased the restrictions almost all over the country. Analysts say that this escalation is due to the anti-racism protest spread all over the country where the protesters could not abide by the preventive measures to control the pandemic.

The forecasting model by the experts at the University of Washington, claims that the US hit 180,000 deaths by October specifically a month before the election. But the country claims that the toll could be kept below 150,000 by that point. At present 74% of its people are always or often wore facemasks in public and the health officials are struggling to make it up through continuous orientation.