---
The Story of Pakistani Craniopagus Twins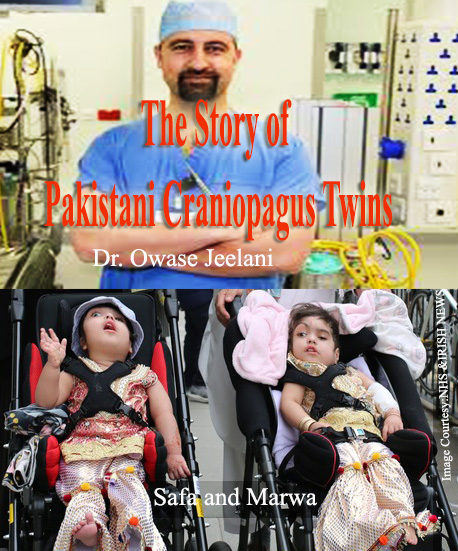 20

Oct 2020

Dr. Owase Jeelani of the Great Ormond Street Hospital (GOSH), London goes history. He has separated the conjoined twins scientifically known as the Craniopagus twins and re-written the history of medical science.

Safa and Marwa born to the Pakistani parents were born twins with a fused or shared skull. Dr. Owase Jeelani after engaged in a hectic 50 hours in the operation theatre has won the job of separating the conjoined twins. BBC has reported that both the girls are doing well but Safa needs a little more time to back to move on walking.

The twins were separated in February 2019. Now, the mother of the children, Zainab Bibi has delightfully returned to Pakistan after a long stay in London with a cousin to complete the surgery and the medication aftermath.

The rare conjoined twins are born joined at the head, with a fused skull. This type of conjoined birth is known as Craniopagus twins. The medical history says that a vast majority of this type of conjoined birth does not survive beyond childhood. But the enthusiastic medical genius, Dr. Owase Jeelani of the Great Ormond Street Hospital (GOSH) along with a team of 100 people made the operation a success and history.

The entire medical cost calculated to more than £1 million is met by a well-wisher and Pakistani businessman Murtaza Lakhani. Besides, the hospital authorities under the leadership of Dr. Jeelani raised the additionally needed funds through a Charity program set up titled "Gemini Untwined".

The girls now aged three and a half, are having regular physical therapy for improving their mobility. Though both the children have learning difficulties, Marwa has improved greatly than Safa. The reason behind this is due to the neurological division that happened during the surgery. According to Dr. Jeelani, only one among the two could share the key blood vessels and the Doctor decided to share it with Marwa, considering the health and survival of both. The Surgeon's difficult decision was this, the experienced neurosurgeon Dr. Jeelani said.