---
The Portrait of The Chief Minister as The Teacher of Journalism.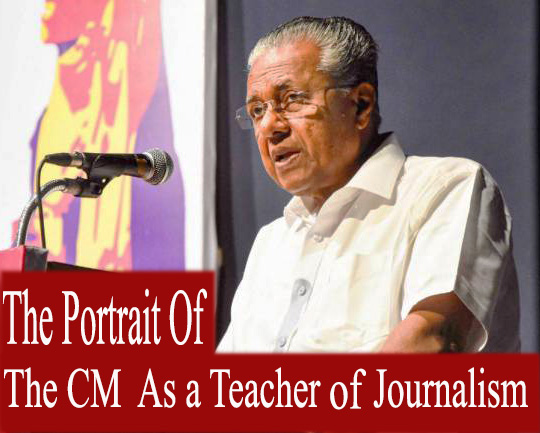 23

Apr 2020

My studies on journalism and its professional application are still continuing meticulously. Although I have involved in investigative journalism incorporating some sting operations, I am more interested in conducting interviews with notable personalities.

Former President of India Mr. K.R. Narayan and the Prime Minister of India, Atal Bihari Vajpayee, and the eminent orator and social critic Mr. Sukumar Azhikode are some of the personalities who answered me in my covetable journalistic venture. While preparing for interviews, I used to do a lot of home works in order to have an excellent output. Quite often the responses and feedback I received during my interviews have constructively and creatively directed the output to more perfections beyond my home works. As a result, often my interviews have applauded greatly than I expected.

Why I am remembering this now is due to strange experiences I had recently on watching the press conference of the Kerala Chief Minister Mr. Pinaray Vijayan while briefing the COVID-19 situations in the state. I have terribly witnessed that some of the media persons are least bothered about the answers, responses, and feedback from the Chief Minister for their questions. They are but interested in chatting with the Chief Minister with the pre-loaded questions that are not at all related to COVID-19, the pandemic. I felt or suspect that some of the journalists are hurrying with their questions as they fear that they might forget those questions they parroted themselves.

The fact is strange that our new-gen journalists are not doing any healthy homework before they appear before the news-targets. The terrible lack of even primary research on the matter is also not seen while they brag. It's also surprising that they are not even having sufficient knowledge about the Information Technology environment. It's the pitiable state of our journalism and the journalists. I would like to remind our journalists that journalism should not be a substitute for social media postings.

At last Mr. Chief Minister has to apply considerable effort to impose the answers, responses, and feedback on them. It is also seen interesting that the Chief Minister has found the opportunity to teach our new-gen journalists about investigative journalism. Mr. Chief Minister also reminded them how to apply the tools of journalism during the hectic times of pandemic, the COVID-19. Being an aspirant of journalism, I suspect strongly that some of our media persons are treating journalism as a bread-earning mechanism rather than a responsible and committed missionary and revolutionary activity.