---
Prime Minister Narendra Modi confuses the Indian population?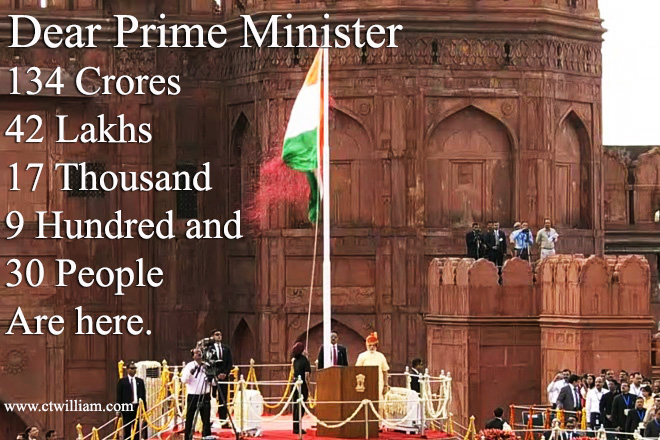 17

Aug 2017

While watching and listening to the historic 70th year Independence Day Speech by the Prime Minister of India, Narendra Modi has confused the population statistics of India.

Citing the recent incidents of children's death in the country, Prime Minister has bowed his head before 125 crores of people on behalf of India while submitting his glorious New India to be emerged by 2022, before the exact 125 crores of Indian population.

It was Modi's fourth Independence Day address to the nation since he has ascended to the throne of the Prime Minister of India in 2014. His address to the nation this time was also made historic because of his democratic architecture of the Independence Day Speech he prepared after inviting representations from the people of the country to frame his speech. The Prime Minister has received 10000 recommendations from the people of India to draft his Independence Day Speech that has documented and demonstrated from Ache Din to Nav Bharat ahead by 2022.

But unfortunately and statistically the Prime Minister has terribly failed to address 9 Crore 42 lakh 17 thousand and nine hundred and thirty people of his country due to erroneous demographic statistics he was provided with. He has addressed only 125 Crores of people relying upon his own office population statistics. Actually the exact population of India during 2017 is 134 Crores; exactly 134, 42, 17630. The population of the previous year i.e. 2016 is 132 Crores. The population of India during the year 2014, the year of Narendra Modi's ascension to the throne of India's Prime Minister is 127 Crores. It was really embarrassing from where did the Prime Minister obtained this erroneous statistics. The statistics of 125 Crores as he has ascertained is the approximate population of the year 2013; exactly 126 Crores.

It was a grievous fault that a Prime Minister who renowned for his state-of-the-art know how for science and technology commits such an erroneous statistics before the nation. In fact, it may not be the deliberate commitment by the Prime Minister but may be from those from his personal staff who drafted the speech for him.

But we could not blame people if they think how the Prime Minister who is ignorant of the population of his own country to be the captain to steer the country to new horizons of New India, Nav Bharat.

The fault is great and unpardonable even it was committed by the personnel staff of the Prime Minister; because the Prime Minister is the trustworthy leader of exactly 134, 42, 17, 630 people of India; and the Prime Minister Narendra Modi should not be outdated in his knowledge.