---
News Capsules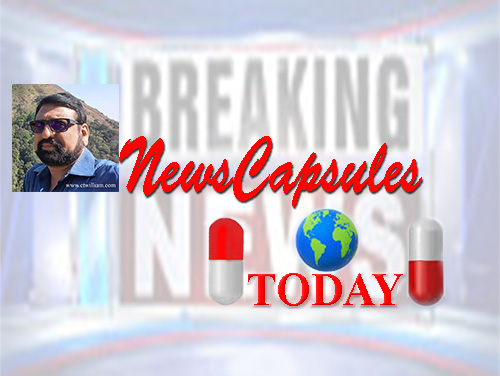 05

Mar 2020

INTERNATIONAL

Covid-19: California, Washington, Florida declared emergency.

Across the Globe, there are 92000 confirmed cases of Covid-19. Of which 80000 are in China. More than 3000 people died so far. Amidst the virus threat in the US, California, Washington and Florida were declared Emergency. US death toll rose to 11. Of which 10 in Washington. There are now at least 150 reported cases in the US. The California man who died of Covid-19 has been exposed to the virus while traveling on a Princess Cruise Liner that docked last month in Japan. The US Vice-President Mike Pence said that any American can be tested for the virus if ordered by a Doctor. The US Government approved $8.3 billion in emergency aid to combat the virus. While the World Bank has committed $12 billion in aid for the developing nations struggling with the spread of Covid-19

NATIONAL

Covid-19: 29 cases in India. All cases reported having originated from Italy.

The 29th Covid-19 case is reported from Gurgaon, an employee of Paytm who has returned from Italy recently. All the cases were reported to have contacts with a group of 15 Italian tourists tested positive. 14 of the 19 infected Italian tourists are quarantined in Delhi. The driver who took the tourists tested positive. Home Ministry claims that over 489000 people have been screened at 21 airports in two months, over 10 lakh at borders with Nepal and around 27000 are under community surveillance. The ministry has advised people not to travel to China, Iran, South Korea, and Italy. The ministry has also advised avoiding non-essential travel to other affected nations. The Prime Minister and Home Minister advised people to avoid public gatherings.

STATE

Covid-19: Kerala Safe, Health Ministry tightened the vigilant measures for the prevention.

The Health Ministry has taken vigilant actions to prevent the Covid-19 outbreak in Kerala. Earlier it was reported that the Malaysian returnee died at the isolation ward in the medical college, Kalamassery, Kerala was not a Covid-19 case. The tests conducted at the national institute of virology in Pune and Alappuzha proved negative. Mr. Jainesh, the Malaysian returnee was admitted to the medical college, Kalamassery and died on 28th February. After obtaining the results from the Virology Institutes and confirming that the patient died not of Covid-19, the dead body was released to the relatives. The vigilant measures were now tightened by the health Ministry have proved that Kerala is safe and Covid-19-Proof.