---
News Capsules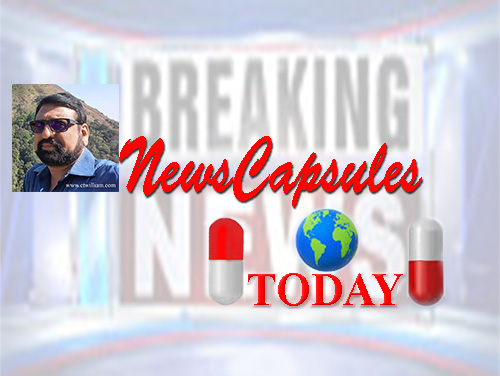 04

Mar 2020

INTERNATIONAL

Covid-19: Iran frees 54000 prisoners; may include Nazanin Zaghari convicted of espionage.

Iran has temporarily released more than 54000 prisoners from crowded jails in an effort to combat the spread of the Covid-19. Discussions are going on to free the jailed British-Iranian charity worker Nazanin Zaghari who was convicted of espionage in 2014. All the released prisoners are tested and found negative. At the same time, "Security Prisoners" sentenced to more than five years will not be let out. As of now, 2336 confirmed Covid-19 cases in Iran. Reports say that 23 out of 290 members of parliament have also tested positive. Experts from WHO arrived in Iran and supporting the local health authorities. It is reported that a member of the Expediency Council, which advises Supreme Leader Ayatollah Khamenei, died as a result of Covid-19.

NATIONAL

Modi-fied social media: Modi's social media will inspire women.

Soon after the Prime Minister's abrupt announcement of giving up the Social Media accounts, the idea was now modified. PM's Social Media accounts will move to the hands of women who inspire on March 8, 2020-The International Women Day. Shashi Tharoor tweeted earlier that the PM's Idea a prelude to banning these services throughout the country too. Now the Prime Minister has made an embarrassing twist. In return to the twist, the Congress leader Sushmita Dev suggested that he will give away the control of Social Media accounts to the Unnao rape survivor to tell her story.

STATE

Covid-19: Kerala Safe, Health Ministry tightened the vigilant measures for the prevention.

The Health Ministry has taken vigilant actions to prevent the Covid-19 outbreak in Kerala. Earlier it was reported that the Malaysian returnee died at the isolation ward in the medical college, Kalamassery, Kerala was not a Covid-19 case. The tests conducted at the national institute of virology in Pune and Alappuzha proved negative. Mr. Jainesh, the Malaysian returnee was admitted to the medical college, Kalamassery and died on 28th February. After obtaining the results from the Virology Institutes and confirming that the patient died not of Covid-19, the dead body was released to the relatives. The vigilant measures were now tightened by the health Ministry have proved that Kerala is safe and Covid-19-Proof.