---
Journalism in danger? It's time for Robot Journalism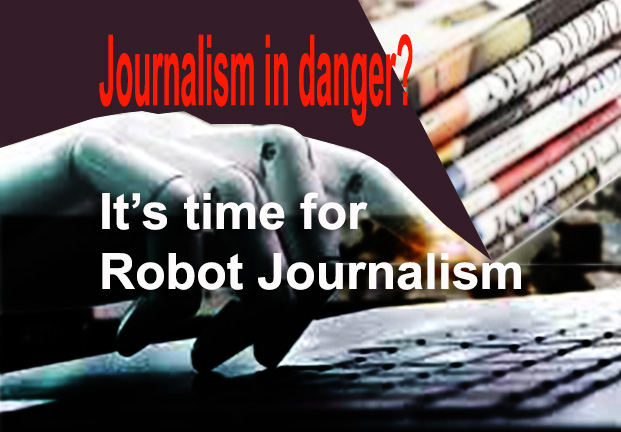 01

Jun 2020

In the Covid-19 environment, everything is changing fast. The new lifestyle has emerged in the world. People are masked and distanced along with frequent hygiene measures. Believe it or not, people are keeping away from newspapers and news magazines fearing the Covid-19 contacts. Surprisingly there took place Robot Journalism to ensure the readers that they are Covid-19-proof.

In modern times Artificial Intelligence tools are being applied in almost all walks of life. The applied effect of AI on education is tremendous. The system of education and teaching has changed. The concept of classrooms and teachers have vanished. Virtual classrooms and teachers have emerged. The Covid-time is forced to popularize the upcoming system of virtual learning. Now it also hits the newsrooms and mansions of journalism. AI has started journalism in a hi-tech covetable style. AI will do the news productions, editing, and the end-product release most efficiently. Yes, Robot Journalism is on.

Recently Microsoft has implemented Robot Journalism in their newsrooms. The Robot Journalist has replaced dozens of journalists who did the job for the MSN website. The Robot Journalist will automatically select the preferential news stories, photos, videos, punching headlines, and will edit and produce them with state-of-the-art perfection. It is reported that scores of journalists will lose their jobs due to the introduction of Robot Journalism. Robot Journalism will cut off the news production costs and it will also bring forth hi-tech précised and perfect news stuff.

Google is funding the project at large and also investing in such projects to test the efficiency of Robot Journalism. However, the conventional human journalist is of opinion that the Robot Journalism will never be a total solution especially in the areas of local reporting and editorial drafting. But the fact is that the future of conventional teaching institutions and news production organizations are at stake. The Covid-time has started the AI revolution and the popularization of the Robots in almost all walks of life.