---
Ganga flows unquiet with deep sighs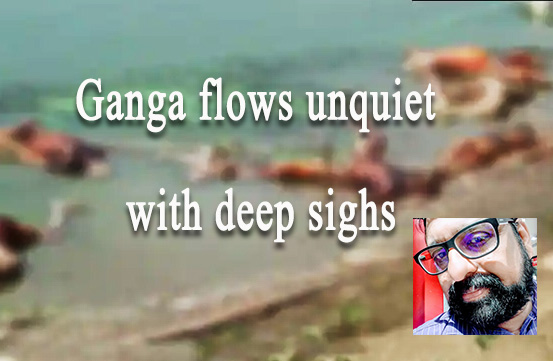 11

May 2021

Ganga flows unquiet with deep sighs. Heart-breaking reports are also flowing from the banks of the sacred Ganga. In the midst of the Covid crisis, decomposed human bodies were seen floating in the river at the Chausa town on Bihar's border shared with Uttar Pradesh. These bodies are piled up on the banks of river Ganga.

People on the banks of river Ganga wake up every morning to the horrible as well as heart felting sight. The local government authorities believe the bodies found floating are belong to Covid patients whose relatives may have been failed to find space to cremate their dear ones. Hence, the river bed.

The district officials primarily reported that 40-45 bodies were seen floating on Ganga, but later confirmed the figure closer to 100. The bodies are said to have bloated and have been on the river for at least five to seven days. Later, the bodies were disposed of.

The panic situation on the banks of river Ganga continues. The people are very much anxious about the infection from the bodies flowing on the river bed. The stray dogs are also seen near the bodies and the scene aggravates the anxiety of the people. Amidst the crisis and anxiety, the Border States, Uttar Pradesh, and Bihar are blaming each other over the unpleasant issue.